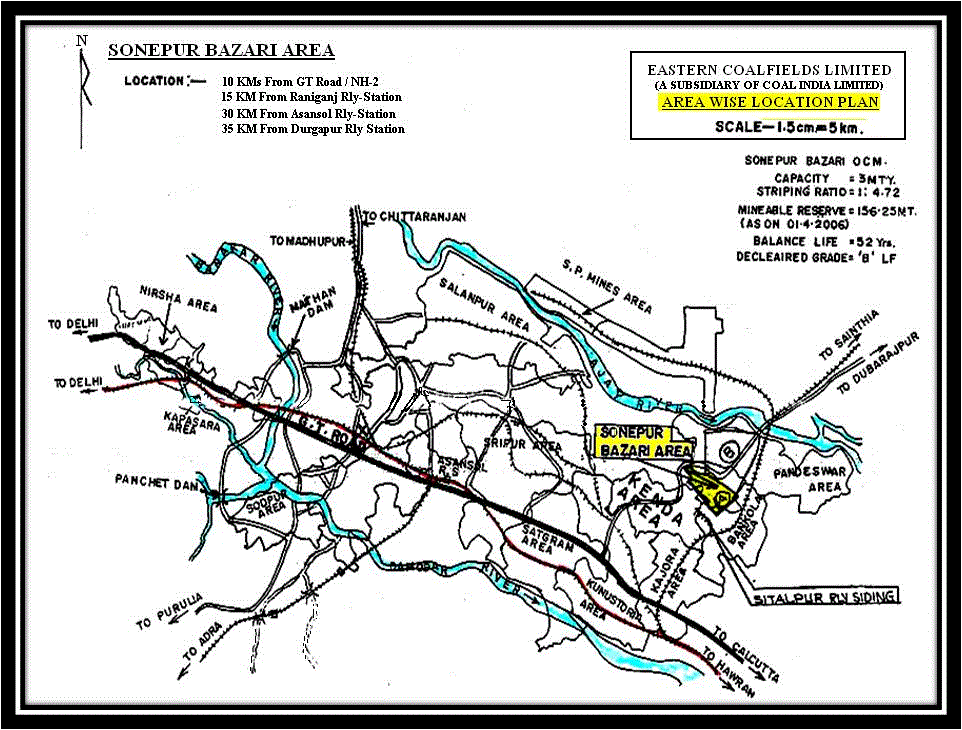 LOCATION
The mine is located in Eastern Part of Raniganj Coalfields in the district of Burdwan, West Bengal,Mine Location 14 km away from G. T. Road, 30 km away from Asansol Railway Station, 35 km away from Durgapur Railway Station.
SALIENT FEATURES
Sonepur Bazari OCP PR approved in Jan'95, rated capacity 3.0 MTY.
New Targeted Out-Put: 8.0 MTY by 2016-17
Average Stripping Ratio is 1:5.70
Mineable reserve (as on 01/04/2015): 179.60 M.Te.
Balance life of the project as on 01-04-2012 is 23 years.
Manpower on Roll as on 01.04.2015 is 1497.
Addl.capital investment: Rs.1,055.05 Cr.
Annual Mine Capacity for the year 2015-16 is 9.6 Million Cubic Meter.
Existing workable coal seams are R-VII, R-VI, R-V, R-IV & R-III/ II
Total Land acquired - 2452.17 Ha (includes Land Required for 8 MTY Project).
METHOD OF WORK
The mine is worked by -
• Shovel-Dumper:



OB of Seam R-VI, R-V (Upper Seams)
Coal of R-VII, R-VI, R-V & R-IV is extracted by various capacities of Shovels & Dumpers.
• Dragline:



One No. Marion 7820 –15 model 26.8 Cum / 88.m. R
It is deployed for exposing the Coal of R-IVB (i.e. Base Seam).
• Surface Miner:



One no. of Surface Miner (Writgen 2200 make) is deployed by contractor for cutting coal of R-VI seam.
• Drill:



Electric 250 mm dia drills (9 nos.) are used for drilling
O.B. Diesel 160 mm dia drills (3 nos.) are used for drilling Coal.
• Blasting:



Control blast technique is adopted.
Mostly Site Mixed / Emulsion Explosive is used.
Excel (Noiseless Trunkline Delay) detonator is used.
Production and Other Performances
(Departmental and Contractual)
PARTICULARS
COAL (L.te)
OVER-BURDEN
CAPACITY UTILISATION (%)
PRODUCTIVITY OMS (Te)
OPERATING PROFIT (Rs. Cr.)
Year
Target
Actual
Target
Actual
12-13
55.00
56.61
281.23
270.33
89 %
14.05
1636.65
13-14
57.60
64.05
330.42
276.43
104 %
16.11
1641.46
14-15
60.00
64.06
294.89
322.12
105 %
13.87
1745.00
Link for
Coal Mine Provident Fund
Link for
Non-Executive Information System (NEIS)